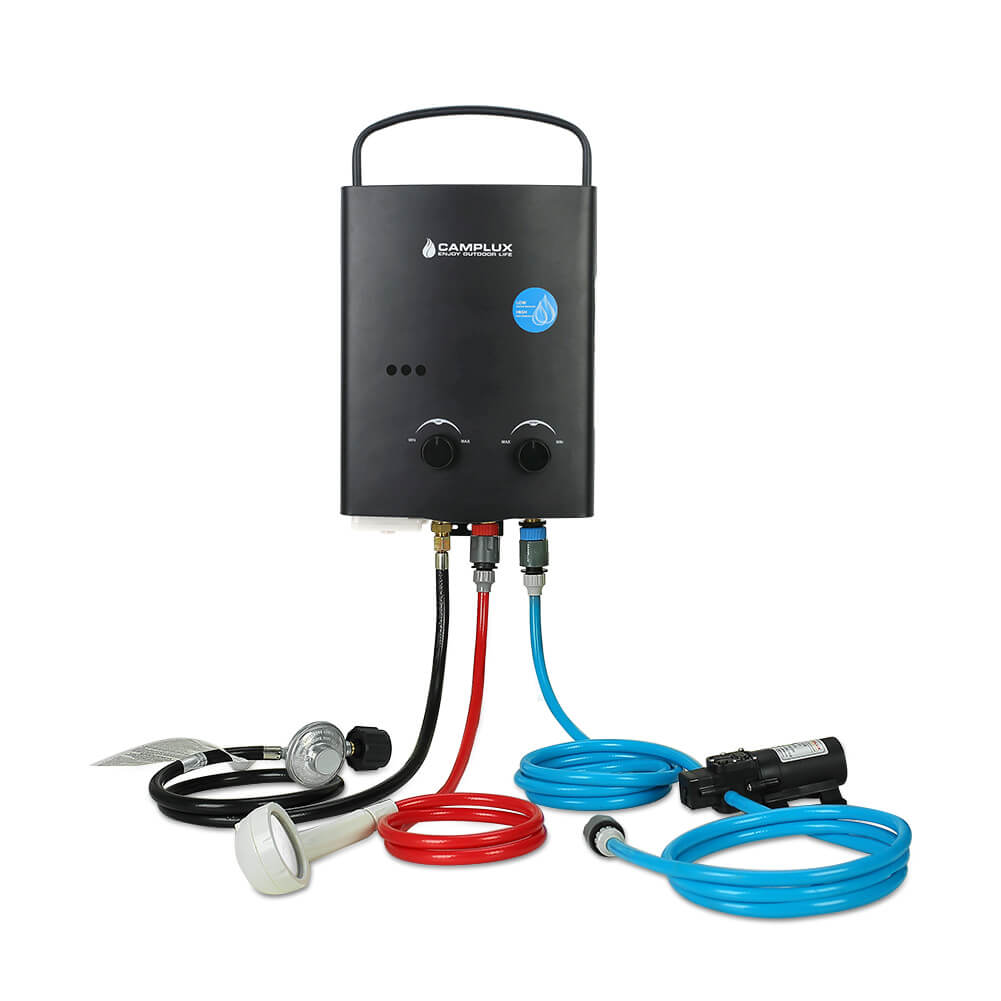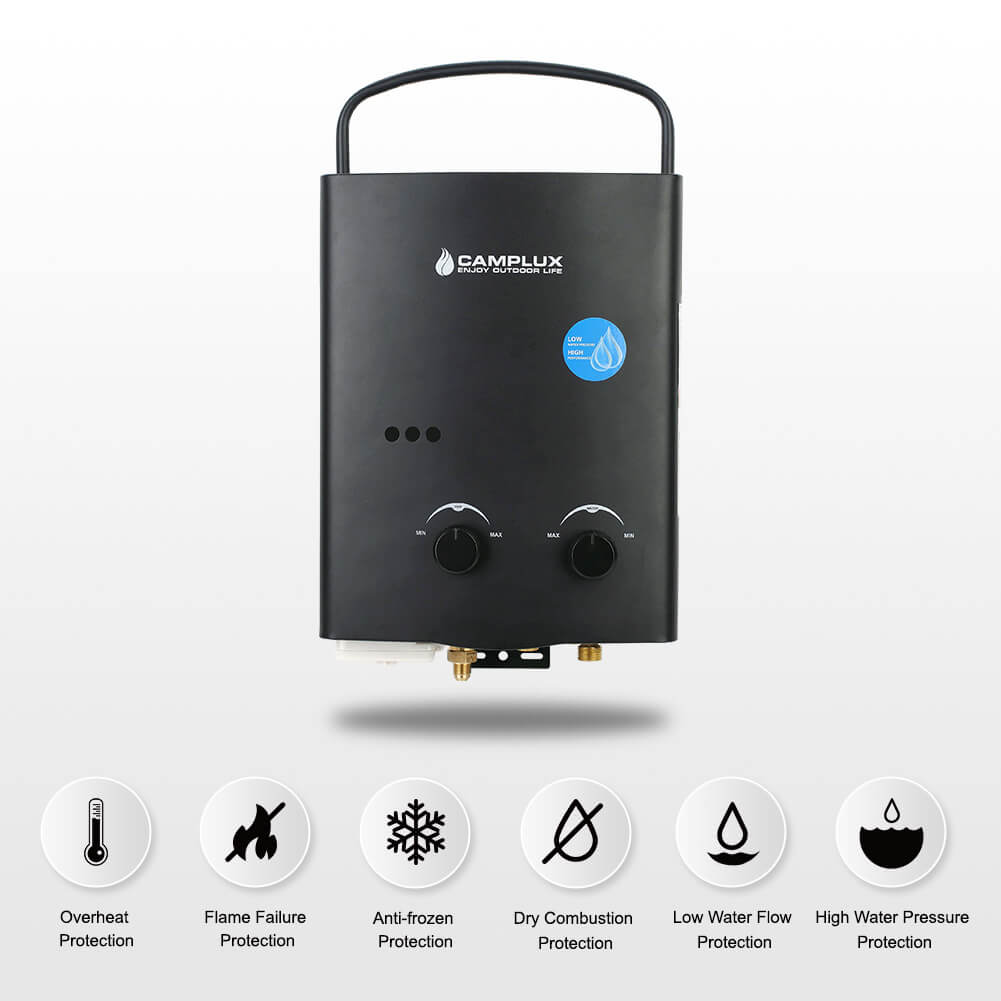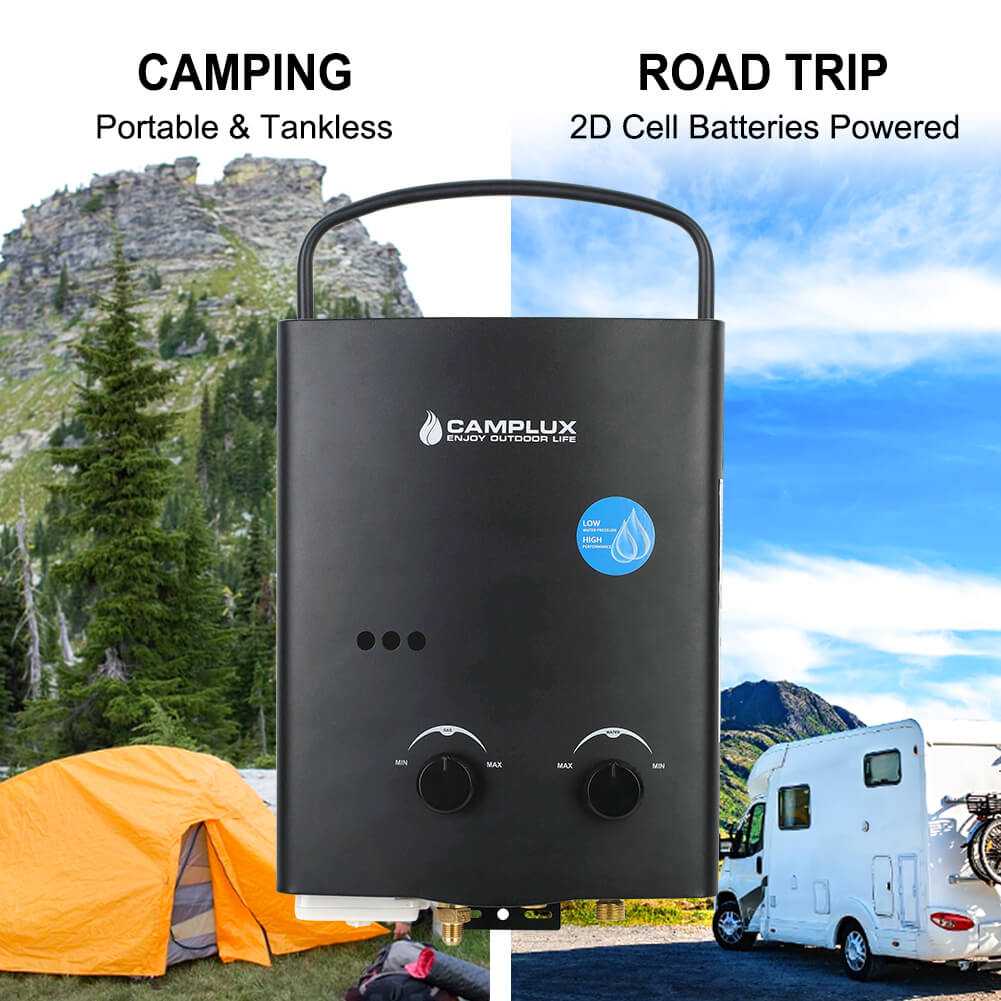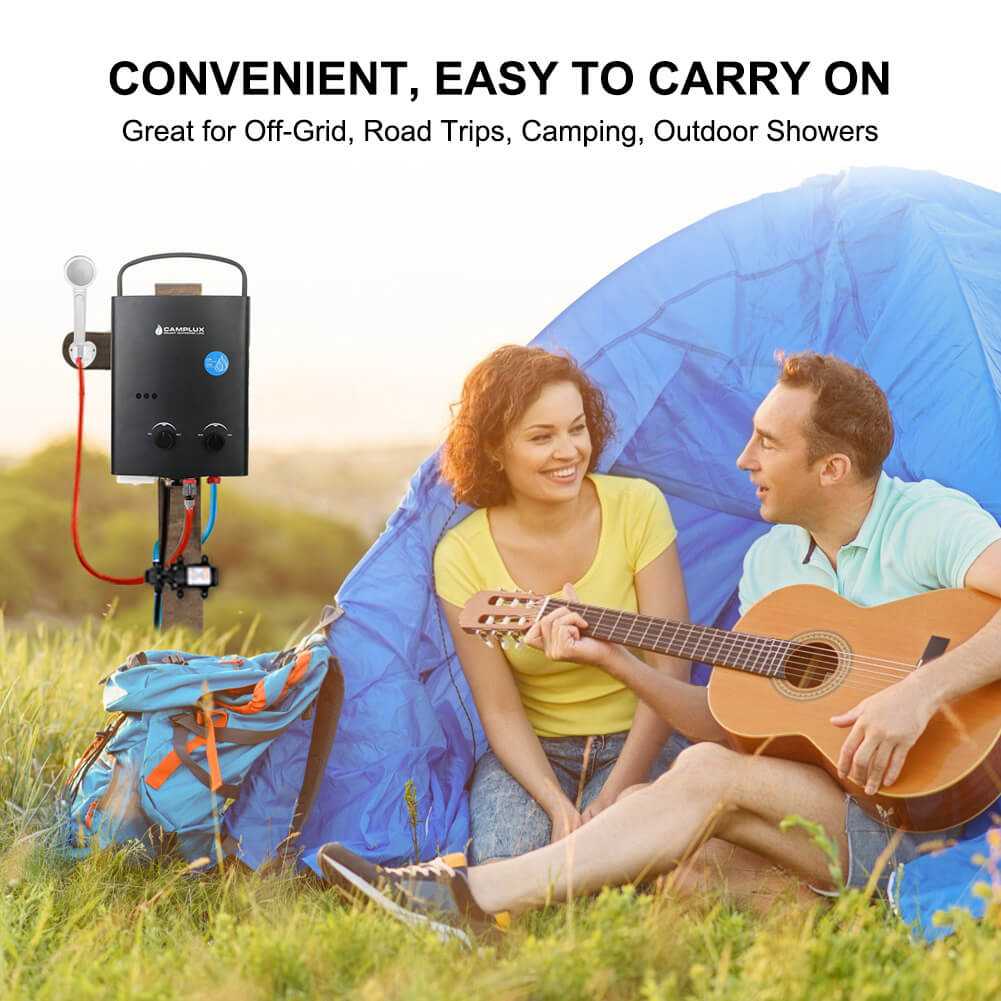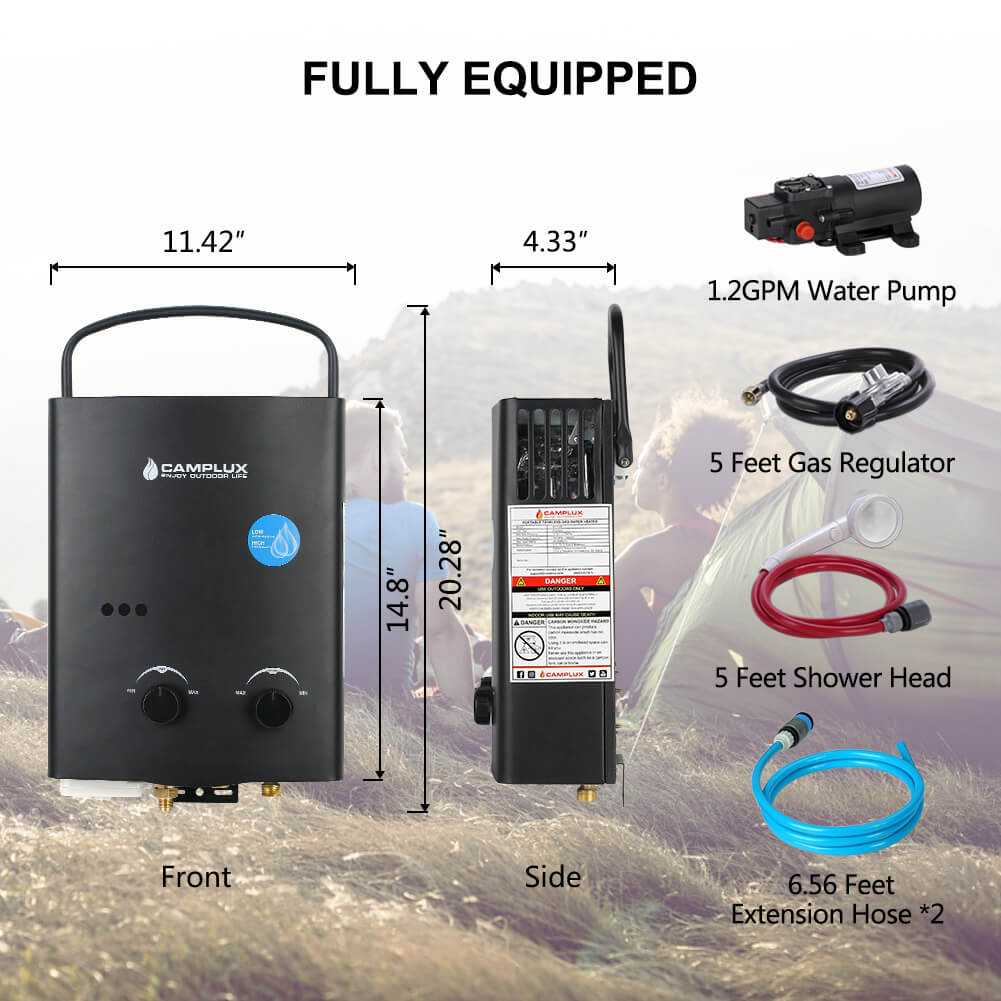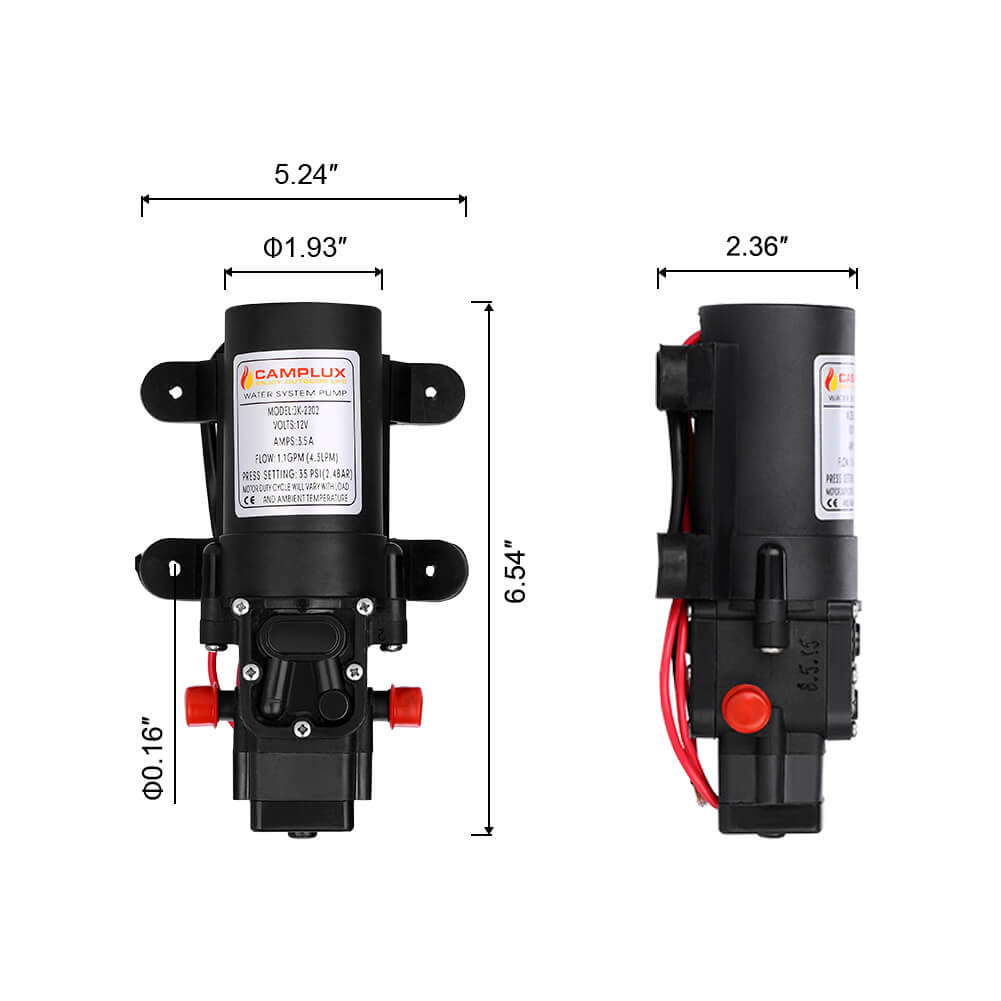 Camplux Propane Off-Grid Portable Water Heater for RV, Trailer & Camper - Black

CSA approved portable tankless water heater for US &Canada markets. Lowest water pressure start up just need 3.0 PSI! Also works great with Camplux 12V 1.2 GPM water pump. You don't need buy extra accessories,you can get 2 pcs extension hose and fittings,complete pump package all in one.

Wide comfortable water temperature range from 8℃-46℃ (46.4℉-114.8℉), 1.32 gallons per minute of hot water output, you can get instant on-demand hot water easily .

Compact and lightweight size tankless water heaterwith folding handle keeps it out of the way, allowing for a convenient set-up outdoors,great for off-grid,road trips,camping trips.

Flame failure device, anti-freezing protection,over heating protection,oxygen depletion safety shut-off protection always ensures you wonderful and safety outdoor showers.To avoid gas leakage caused by improper sealing of the water heater, DO NOT TWINE TEFLON TAPE between gas regulator and gas inlet pipe. The tankless water heater will "caught on fire "with improper operation. Always check gas leakage before operation.
Fuel Type: Liquefied Petroleum Gas

Material: Stainless Steel

Power Source: Gas Powered

Maximum Energy Output: 34000 British Thermal Units

Item Weight: 14.2 Pounds
We offer "free ground shipping" for all US orders except: Alaska, Guam, Hawaii and Puerto Rico.
Shipping Method:
(1)Standard / small orders ship out via: USPS, UPS and FedEx.
(2)For large items, multiple items or large orders we use LTL freight.
Shipping Time: Standard shipping: 4-6 business days. LTL shipping: 8-10 natural days.
Order Processing Time: 1-2 business days.
*Business days don't typically include weekends, however Saturday and Sunday deliveries may occur in certain zip codes.
*If you need to request a cancellation or make any changes to your order. Please contact our customer support as soon as possible by telephone at (844)-538-7890 or email at (service@camplux.com) Monday - Friday from 9am -5pm EST. Unfortunately once an order has been sent to our warehouse we cannot guarantee cancellation or changes as to we are working quickly to get your order to you.
1: If you would like to return an item, please contact our customer support via email at (service@camplux.com) or telephone (844)-538-7890 Monday - Friday from 9 am -5 pm PST to request a return within 30 days of delivery for a full refund. When contacting our support team ensure you provide them with your return reason.
2: Returns made without approval will not be accepted as to we have different return addresses for different products.
3: For returns due to buyers remorse (ie: Order by mistake, Does not fit, Change my mind, No longer needed, etc) customers are responsible for the return shipping cost along with a 20% restocking fee applied. You should also save your tracking number to confirm when your item has been received at our location. Items being returned due to defects or quality issues a pre-paid return label will be provided to you upon you providing us with any pictures/videos showing the issue you are encountering.
4: If an item is found to be damaged in shipping. Do not accept or sign for the product. Simply refuse the package with the carrier and contact our customer support asap.
1 X 5L Tankless Water Heater

1 X 12V Water Pump

1 X 5 Feet CSA Gas Regulator

1 X 5 Feet Shower Head

2 X 6.5 Feet Extension Hoses w/ Quick Connector

1 X Installation Hardware Pack

2 X US Standard Garden Hoses

1 X Users Manual